JAPAN RAIL PASS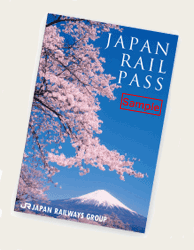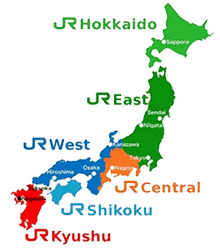 JAPAN RAIL PASS... The Key To Convenient Sightseeing In Japan.
The JAPAN RAIL PASS is offered by the six companies that make up the Japan Railways Group (JR Group).
The six passenger railways of the JR Group are separated by region(JR Hokkaido, JR East, JR Central, JR West, JR Shikoku, JR Kyushu). Nearly all their services are within the prescribed geographic area.


The JAPAN RAIL PASS is the most economical way to travel throughout Japan by rail. Please be aware, however, that some restrictions apply. The pass is not valid for NOZOMI trains on the Tokaido and Sanyo Shinkansen lines.
The six JR passenger rail companies have their own rail passes. These represent considerable savings on the nationwide pass if you are planning to limit your train travel to a particular area of Japan.
(1) Types and prices in Japanese Yen
There are two types of JAPAN RAIL PASS: Green (for superior-class Green cars), and Ordinary.
Each of these types is available as a 7-day, 14-day, or 21-day pass.
■Price of Exchange Orders(as of January 15, 2020)
TYPE

GREEN(1st class)

ORDINARY(2nd class)

DURATION
ADULTS
CHILD(6-11 years)
ADULTS
CHILD(6-11 years)

7 DAYS

39,600 yen
(335.00 euro)
19,800 yen
(168.00 euro)

29,650 yen
(251.00 euro)

14,820 yen
(126.00 euro)


14 DAYS

64,120 yen
(542.00 euro)

32,060 yen
(271.00 euro)

47,250 yen
(400.00 euro)

23,620 yen
(200.00 euro)


21 DAYS

83,390 yen
(705.00 euro)

41,690 yen
(353.00 euro)

60,450 yen
(511.00 euro)

30,220 yen
(256.00 euro)

The actual cost in Euro is calculated at the time the Exchange Order is issued.

The purchase exchange rate may differ from the exchange rate in effect when you actually visit Japan. 

Prices are subject to change.

The applicable price is the price valid on the date when an Exchange Order is issued. 

---
The Japan Rail Pass be will sold at a higher price and on a trial basis in Japan until March 31, 2020.
* Restricted to individuals who possess only a passport issued by a country other than Japan
* Purchases cannot be made by Japanese nationals living overseas.
* The sale details after the above date will be announced later.


For details about the sales, please download this PDF file.
(2) Handling fee (VAT 21% is included)
The handling fee is subject to how many Rail Pass(es) you order.
Please note that we do not charge handling fees for the customer who purchases flight ticket to Japan from us.
*Eur 15,00 per pass -If you purchase 1 or 2 Japan Rail Pass

*Eur 10,00 per pass -If you purchase 3 or 4 Japan Rail Passes

*Eur 5,00 per pass - If you purchase 5 or more Japan Rail Passes
Value for Money!
The Japan Rail Pass is a favourite with travellers to Japan as it enables unlimited use of the Japan Rail network for the pass duration.If you purchase train ticket to Kyoto at Narita Airport appon arrival, The price will be as follows:
From Narita Airport to Tokyo station : 6,040 Yen
From Tokyo to Kyoto by Bullet train :27,820 Yen
-----------------------------------------------------------------------------------------
Total 33,860 Yen > Japan Rail Pass 7 days Ordinaly class is only 29,110 Yen!
Who is Japan Rail Pass For?
Your trip in Japan is longer than 7 days.

You have not arrive in Japan yet. You have to buy the pass before arrival.

You plan to ride long-distance trains often; if your stay is 7-day, maybe riding long-distance trains among more than three cities would worth Japan Rail Pass. If you stay in one or two cities for many days, it may be not for you.

Non-Japanese tourist who enters Japan with "temporary visitor" stamp on his/her passport upon entry.

Japanese national livin in a country other than Japan.

日本国外に居住する日本人の利用資格
(3) JAPAN RAIL PASS : From purchase to travel
STEP 1 - Buy your Exchange Order from Japan P.I.Travel.

JAPAN RAIL PASS ORDER FORM - Please fill in this order form.
OR
JAPAN RAIL PASS ORDER FORM (MS Word) - Please fill in this order form and send us by Email : railpass@japanpitravel.be
---
STEP 2 - Turn in your Exchange Order to receive a JAPAN RAIL PASS
---
STEP 3 - Make a seat reservation.
---

For more details about Japan Rail Pass, please follow the link below:


Japan Rail Pass Official web-site